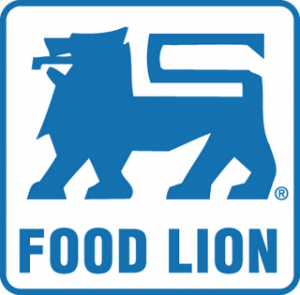 Food Lion has some great sales this week to get some products almost free! Too bad they don't double coupons. But be sure to scan your MVP card as soon as you walk into the store to get coupons for that days purchase. They have a new scanner located by the doors and the coupons that print out match things that you buy on your MVP card!
Right now through August 31st Food Lion is participating in the Great Grocery Giveaway. Make sure you scratch your game pieces and the internet code on the website. You could be the winner of $1 to $10,000! Wouldn't that be nice?
Grapes 99c/lb
Ken's Salad Dressing or Sweet Baby Rays BBQ Sauce BOGO FREE
$1/2 Ken's Salad Dressing 8oz (8/15 SS)
Kellogg's Cereal BOGO FREE
Froot Loops, Apple Jacks or Frosted Flakes
$1/2 Kellogg's Cereals (8/1 RP)
Pet or Turkey Hill Ice Cream 2/$5
2 L Coke products 99c
All Laundry Detergent $2.99
Ronzoni Core Pastas BOGO FREE
Reg. Retail $1.12
55c Ronzoni Pasta
printable
Total: 2c for 2 packages of pasta!
Pampers Box Diapers $19.99
$1.50 Pampers Diapers Baby Steps
printable
$1.50 Pampers Diapers or Pants (8/1 PG)
Total: $16.99
6pack Pepsi products 5/$10
Del Monte Fruit Bowls 5/$10
Uncle Ben's Whole Grain Rice $1.69
75c Uncle Ben's Whole Grain Rice (8/15 RP)
Total: 94c
Bryer's Smooth and Dreamy Sandwich and Ice Cream Bars $2.99
General Mills Cereals 2/$6
Cheerios, Honey Nut Cheerios, Chinnamon Toast Crunch or Lucky Charms
$1/2 General Mills Cereals (7/18 SS)
General Mills Snacks 2/$5
Kool Aid Jammers $1.89
Downy Fabric Softner $4.99
$1.59 Downy Ultra Fabric Softner (8/22 SS)
Total: $3.49
Hunt's Ketchup 4/$5
$1/2 Hunt's Ketchup (August All You Magazine) - use 2
Total: 75c each
French's Mustard 2/$3
30c French's Mustard (6/20 SS) - use 2
Total: $1.20 each
Van Camp's Pork and Beans 4/$5
Food Lion Hot Dog or Hamburger Buns 97c
Johnsonville Bold Sausages $2.99
75c/2 Johnsonville smoked or cooked sausages
$1/2 Johnsonville Brats or Italian Sausage
International Delight Creamer 3/$5
Pillsbury Toaster Strudels or Eggo Waffles 3/$5
50c/2 Pillsbury Toaster Strudel (8/8 General Mills insert)
$1/2 Eggo products (7/25 RP)
Totinio's Party Pizza 8/$10
$1/5 Totino's Party Pizza printable
$1/5 Totino's Party Pizza (8/8 General Mills insert)
Daisy Sour Cream 3/$5
Land O Lakes Butter BOGO FREE
Reg. Retail $2.49
40c Land O Lakes Buttery Spread (7/18 SS)
Total: 84c each when you use 2 coupons
Red Baron Deep Dish Pizzas 3/$10
Boston Market Dinners and Entrees 2/$5
Bird's Eye Steamfresh Veggies 5/$10
Sargento Shredded Cheees 2/$5
Buy 2, Get 1 FREE
50c Sargento Natural Cheese snack (8/8 SS)
Gwaltney Bacon 2/$5
Ball Park Beef Franks 2/$5
75c/2 Ball Park products
Total: $2.12 each
Johnsonville Breakfast Sausage 2/$5
Bob Evans Sides 2/$7
Land O Frost Lunch Meat $3.49
55c Land O Frost Premium Lunch Meat (8/8 RP)
Total: $2.94
Oscar Mayer Lunchables 3/$5
*SS=SmartSource, RP=Red Plum, PG=Proctor & Gamble, BOGO=Buy one, get one